The Eltham Concert Band
The Eltham Concert Band is a community band based in Eltham in the Shire of Nillumbik in the North Eastern suburbs of Melbourne (Australia). We are partly supported by the Shire Council and we perform for a wide range of community service groups and in various community functions such as: The Nillumbik, Warrandyte and Banyule Festivals; Council functions and Judge Book Village events.
Eltham Concert Band has a proud history of providing enjoyable music making for the players as well as exciting entertainment for the community. The Band celebrated its 40th anniversary in 2015. Several of the members have been with the Band for most of that time.
Bookings are now open for our October Concert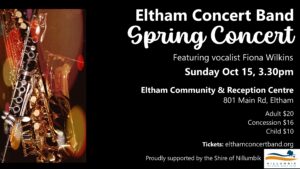 Click the image above to get your bookings in.
Our Musical Director, Stephen Deakes,https://www.trybooking.com/CLNXT has been overseas for a two months European tour. During his absence, Nicolas Buff has been rehearsing the band. A new conductor brings new ideas, and I think it has been good for the band. Stephen is now back, and he will conduct the start and the end of the concert. In the middle, though, it is not just Nicolas, as we have a guest singer, Fiona Wilkins.
We have practiced more music than we will have time to play, so I hope we make the right choice on what to leave out. As usual, we will perform without an interval, and then we invite the audience to share supper with us, and to tell us if we made the right choices on what to include.